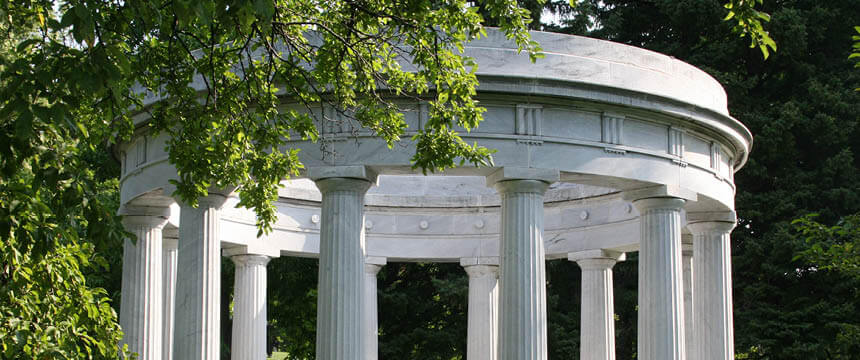 Joseph Dispenza would be the first to admit that even the cemetery he oversees was a bit slow to implement technology.
"We were like Blockbuster Video; we felt, 'This is working, why do we need to do more?'" says Dispenza, president of Forest Lawn Cemetery and Crematory Group in Buffalo, NY. "We waited for technology to find us; we [the cemetery industry] didn't do what every other industry did."
What every other industry did, he says, is become more proactive in seeking out and embracing technology. "Unless we're able to be as active and engaging as every other business, we will hasten our insolvency," he adds.
"We need to re-invent, renew the cemetery industry, and pivot." And not just because the pandemic forced most businesses to do so.
Dispenza has worked in the industry for more than three decades. Still, he now recognizes that cemeteries need to be more aware, proactive, and responsive to what customers demand—and technology is squarely the answer.
"That's life today; everything is done via mobile device," says Dispenza. "Comfort and complacency have no place in the industry."
Available 24/7
"No one has ever asked for that before." That's the most often cited reason for not providing a particular service, Dispenza feels. But the real question, he asks, is why haven't WE [the industry] asked for that before?
Today's digital natives are used to getting everything instantly—from buying groceries online to reserving library books and even buying major purchases like automobiles. So, it only makes sense that the cemetery industry follow suit.
"The world has embraced convenience," he says. "Forest Lawn is embracing technology on a scale that's probably bigger than we need, definitely later than we should have, and hopefully at a level that is a few years ahead of the curve."
He says the cemetery is one of the oldest cemeteries, but admittedly one of the most progressive. "Our use of technology is based on remaining relevant, but more importantly, based on driving engagement."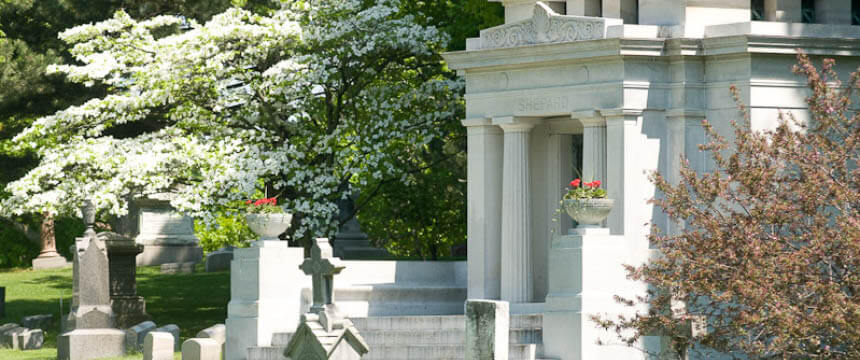 Technology Buckets
Christopher Converse, Forest Lawn's vice president and leader of IT advancement, says their company groups technology into two buckets—customer-facing and behind the scenes/operational. "We are looking for one system to bring both of those together," he says.
As in most cemeteries, records used to be totally paper-driven, handwritten in books. In 2015, in addition to upgrading its easily navigable website, Forest Lawn digitized many documents and records. Registers are available online to the public, with much information available to search burial records, find plots, locate relatives' graves and create online memorial pages (including text, photos, and videos).
Much like an online library, the cemetery's Margaret L. Wendt Archive and Resource Center allows extensive searching of photos, records, objects, and other resources. All are part of what Converse calls the "legacy of our cemetery," important to both genealogists as well as potential new customers.
Forest Lawn also uses a general online map with 360-degree views on its tour app. And live chat technology allows staff to respond to inquiries immediately, without a standard recorded message other cemeteries may employ. "In order to engage, we need to be available seven days a week, 24/7," says Dispenza.
Enhancing Customer Service
While Forest Lawn's technology allows families to do just about everything online, one thing they can't do—yet!—is purchase a plot completely virtually. The highly regulated New York State only recently allowed online sales of burial rights.
So, while Forest Lawn uses technology to showcase specific lots, amenities, and pricing, they still haven't gotten to the point of selling plots online. That could only enhance customer service for families or particular generations who may not want to—or be able to—visit Forest Lawn in person.
"The history/genealogy part is very important," says Dispenza. "But we also need to use technology to sell burial rights. That's a piece we need to deploy as all other businesses do and have for many years. Selling today is very different from what was available even a year ago…today people want now…not to have to wait until an office opens on Monday."
Today, he admits, it's not just about selling products and services—it's about the transference of belief—reminding families that cemeteries and the final disposition they offer is of transcendent importance.
Dispenza acknowledges that change is hard, especially in an industry that needs to not just sell its products and services, but maintain them in perpetuity. "It's not easy to change," he says. "It's easier to hope that the status quo will maintain."
He recalls spending months—many years ago—listening to staff, deciding whether it was more important to put photographs of the family service counselors on their business cards or consider launching a website.
Now, those questions are well in the rearview mirror. "How do we best use technology to share peoples' stories?
"It's about staying ahead so we, cemeteries, remain the silent but perpetual beacon in the night."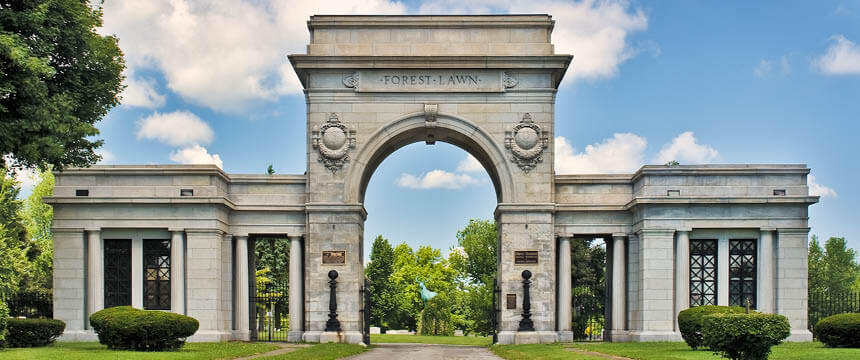 ---
About Forest Lawn
Forest Lawn Cemetery is one of the first deliberately designed and professionally landscaped rural cemeteries in the United States, with its first burial in 1850. With 269 acres, it houses a permanent population of more than 165,000.
The all-faith cemetery is on both the New York State and National Registers of Historic Places; it operates five cemeteries and a crematory, including cemeteries in Buffalo, Hamburg, Williamsville and West Seneca. In 2018, the Sisters of St. Francis of the Neumann Communities entrusted ownership of Gethsemane Cemetery in Williamsville to the Forest Lawn Cemetery and Crematory Group.
Famous residents interred at the venues include funk singer Rick James; father of modern air conditioning Willis Haviland Carrier; Brigadier General Albert Myer (founder of the National Weather Service); Dorothy Goetz Berlin, wife of composer Irving Berlin; and Olympic gold medalist Charles Reidpath.
---

OpusXenta, a leader in global technology for the death care profession, has been assisting Forest Lawn Cemetery with its technology needs. Cloud-based solutions help cemeteries manage their operations more efficiently, allowing them to better realize their vision.