Mapping for a Great Customer Experience and Streamlined Operations
Build customer and community engagement by showcasing your cemetery through high resolution imagery while also streamlining your operations and tracking your memorial locations using state of the art GPS technology.
byondpro and byondcloud incorporate a host of mapping features to enable cost-effective capabilities for cemeteries as well as crematories or funeral homes that maintain their own memorial facilities such as cremation gardens.
Mapping can optimize the utilization of space, manage inventory, streamline groundwork, and provide easy grounds navigation.
The byondcloud MapMakr tool can save you thousands by putting the tools you need at your fingertips.
OpusXenta also provides best-in-class mapping, architectural, and geospatial engineering services to ensure the best outcomes from your mapping strategies.
All The Features You Need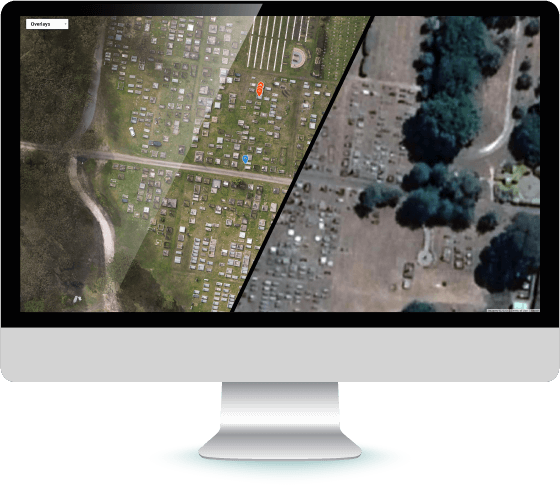 Use digital maps with GPS locations that can be updated through handheld mobile devices, geotechnical devices, and auto-calculated based on cemetery layout.
View maps anywhere and anytime through any desktop browser and mobile device. All you need is a device and an internet connection (including mobile internet).
Drag and drop pins on your screen to measure distance or area in real-time, either at your desk or in the field.
Print maps onto daily works documents for the grounds teams and onto location maps for visitors to easily navigate the cemetery.
Link detailed information to every location and view this detail on your maps at the click of a button.
Identify significant locations, allowing visitors and staff to view them and to learn interesting facts about them through your maps. Use this technology to provide guided tours and grow community engagement.
Provide visitors with an easy way to find the location of loved ones through kiosks, computers, or mobile devices.
Add images, such as those of the deceased or headstones, to your records and display them through your maps. Or showcase the your points of interest to engage visitors.
Planning the optimal layout of the facility ensures that the grounds are used effectively to provide as many resting and memorial spaces as possible.
This assists in leveraging good returns per area while also providing the much-needed space in an industry which is under continual pressure to have more available.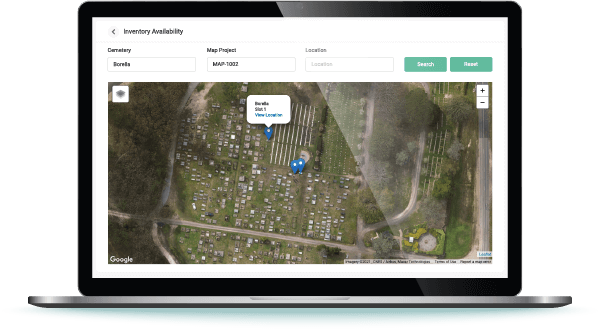 Graphically view and manage your inventory across the entire facility or for selected areas.
Provide your sales teams with the ability to view stock availability from their desks or while walking the facility and provide customers with a personalized showcase of your inventory to match their specific needs.
Make your grounds teams more efficient through the use of the cemetery maps by being able to find and identify locations accurately.
Ensure that the space dimensions are available to the grounds teams so that they can plan the service without the risk of a surprise at the time of excavating.
Easily identify flora growth, age, and root movement to protect against damage to graves and cemetery structures.