A Simple-To-Use Records Management Solution for Businesses of Any Size
recordkeepr is a simple to use yet effective mapping and record management solution which delivers the features and functions you need.
For less than you imagine, recordkeepr provides you with the capability to manage deceased records, track your inventory, generate quotes and invoices, and maintain compliance with legislation. Showcase your cemetery to the public with the ability to search your records and use maps for easy navigation to burial and memorial locations.
Get a snapshot of your inventory availability and export reports that will help identify cemetery capacity and inform future cemetery planning.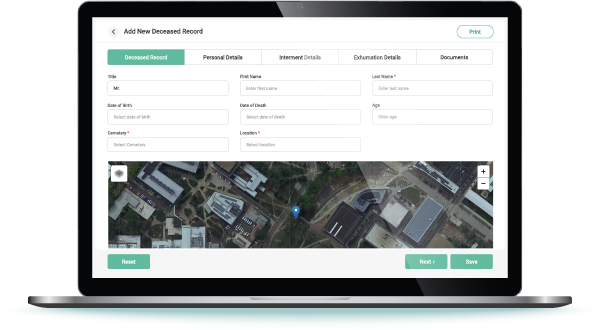 Comprehensively track all your records to ensure statutory compliance and ease of finding the right information as and when it is needed. The information tracked includes:
Burial and memorial locations
Rights of Interment / Burial Rights
Deceased Persons
Exhumations
Documents and images
Visually map all of your memorial locations, including graves, mausolea, and ash placements.
Use your mapping to show your inventory availability and make it easy for the public to navigate their way to burial or memorial locations.
The advanced mapping capabilities mean you can avoid expensive surveying costs.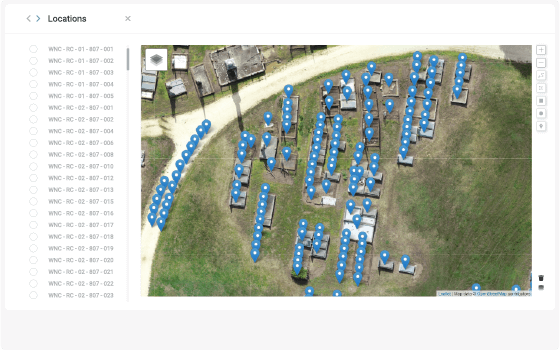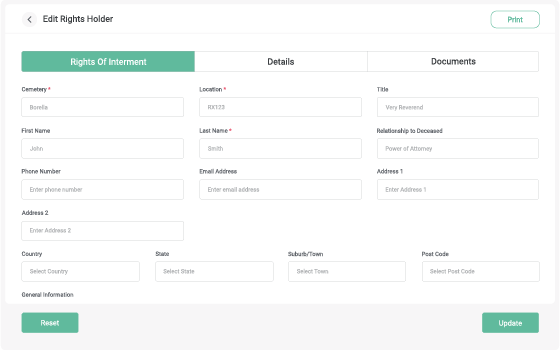 Statutory compliance with record-keeping legislation and the safekeeping of all paper-based or digital records is critically important to cemeteries, crematories, and funeral homes.
recordkeepr ensures that all the required information is provided for, and you can extract the information needed for providing compliance reports.
Your data is kept safe in a secure and fully managed cloud environment in your country of residence.
Quickly and easily get a snapshot of your inventory availability and track available, reserved, and sold statuses.
Automatically update your inventory levels when locations are reserved or sold.
Use the mapping to provide an interactive view of your inventory status across your cemetery or memorial locations.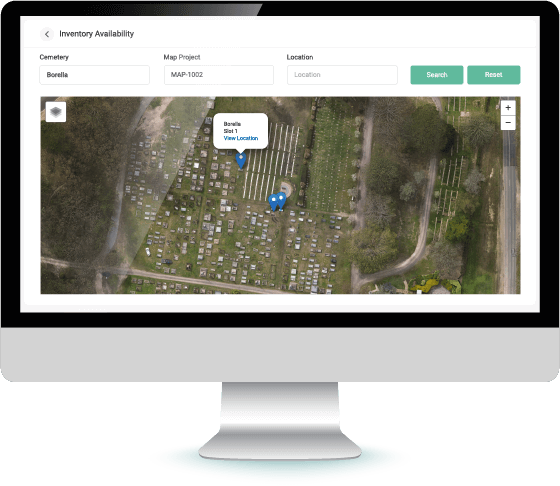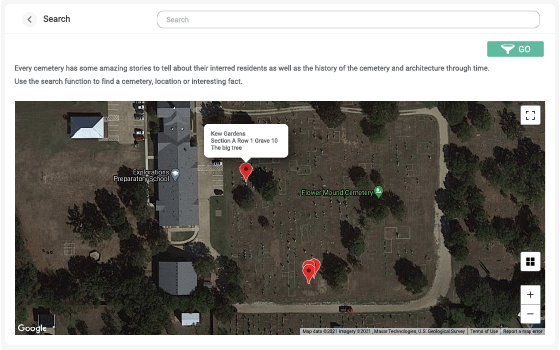 Most cemeteries have an exciting history about the area in which they are found and the residents that have lived near them. Use the rich history of your cemetery to showcase your area and to provide ancestral information that creates public interest and attracts new customers.
Quickly and easily generate quotes and invoices with easy to use free text fields and the ability to add or change labels that reflect your range of products and services.
Standard templates can be customised with your logo and branding, ready to print or export.
Basic reporting functionality gives you the ability to quickly access information about deceased records, rights holders, and memorial and burial locations.
Learn more from your data with the option to export reports as a spreadsheet for customisation and analysis.
Get started with RecordKeepr today.
Contact us for more information about RecordKeepr.