A Flexible Cloud Platform for Death Care
Delivering Change. Supporting Tradition.
In today's "always-on" world, more people go online to research or to transact than through any other medium.
byondcloud is the online platform that complements the traditional way of running your death care business while providing the capabilities needed to navigate the shift toward the digital world.
Manage Arrangements and Bookings
With the byondcloud online funeral booking manager function, funeral homes can now begin arrangements anywhere and at any time – saving time and stress for you and for families.
Cemeteries and crematories can provide scheduling information and take bookings 24/7, and get simplified booking processes while also creating new business opportunities through online search capabilities.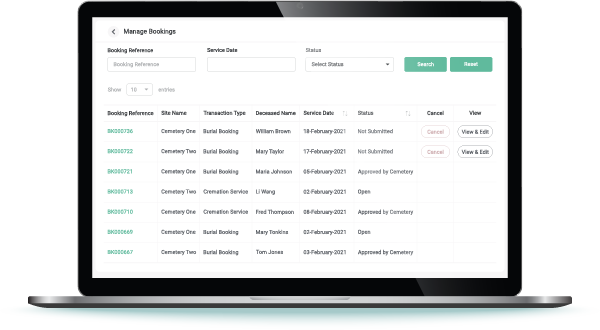 Frequently Asked Questions
To get started with our management system for cemeteries, funeral homes, crematories, and suppliers, follow these simple steps:
Visit the registration page and sign up.
Once you've registered, our dedicated Customer Support Team will review and approve your registration.
After approval, you are all set to start using byondcloud and explore its features.
byondcloud is compatible with all major web browsers, including Chrome, Edge, Firefox, and Safari. To access our simple cemetery software, all you need is a working internet connection.
Yes, we offer comprehensive technical support and training options for our users:
Our Customer Support Team provides personalized onboarding assistance and training on the features of byondcloud that interest you.
Access to our Help Centre is available for self-learning, where you can find valuable resources to enhance your understanding of the platform.
For ongoing support, our Customer Support Team is readily available. You can contact them at byondcloud-support@opusxenta.com for any queries or assistance.
We regularly update our death care management system to ensure the best user experience and to introduce new features and improvements. Whenever a service interruption is necessary for maintenance purposes, we will notify you in advance via email, keeping you informed throughout the process.
Contact us for more information about byondcloud.