Roses do not bloom hurriedly; for beauty, like any masterpiece, takes time to blossom –
Canada-based philosopher Matshona Dhliwayo.
There's something quite Heavenly about taking a stroll through a rose garden.
And that's especially true at the Ballarat New Cemetery in the central highlands of Victoria, Australia.
Originally founded amid the heady gold rush days of 1867, it's beautifully presented and lovingly tended rose beds, manicured green lawns, shady trees and rotundas, statues, and fountains clearly evoke a bygone era.
They present a beautiful 55-hectare landscape of peaceful reflection, tranquillity, and a stunning resting place for the more than 78,000 famous (and infamous) figures who shaped Ballarat's colourful history.
But according to Senior Client Services Officer Jenny McGrath, it is the 2500 roses of over 250 varieties that have done the most to enhance the cemetery into the place of true botanical beauty that it is.
And she says that is something worth sharing.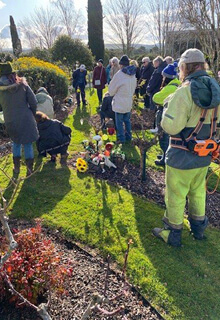 "I previously worked in Melbourne's Altona Cemetery, where we held rose pruning days, so when I moved to Ballarat, I brought the workshop concept with me," Jenny said.
"Our workshops are mainly teaching workshops where members of the public come in once a year at no charge.
"We start with an introduction and then take them out for a hands-on session and show them the best way to prune and give them lots of information on the care of their cutting equipment, the hundreds of rose varieties out there, the feeding of the roses and the life of the roses," she said.
Jenny said the rose pruning days are coordinated by both the indoor and outdoor cemetery staff, who run a couple of sessions with around 20 members of the public taking part in each one.
"It's usually in winter, and depending on numbers, we allocate one of our gardening team between every two or three guests, so it's very personable instruction, and we have also run fruit tree pruning sessions on our apple, nashi pear and cherry orchard and lemon trees and plenty more if people want those as well.
"It's just a great community connection, and we believe it is important that people feel welcome, not just in times of grief.
"We have door prizes provided by sponsors and gift bags, a morning tea or a lunch, always with hot drinks which people appreciate as it's usually freezing outside at that time of the year.
"People old and young come along, and they ask lots of questions about our roses and our other trees and shrubs, and we encourage them to ask staff for assistance to take cuttings and grow them at home.
"In fact, if people come in to purchase a rose memorial for their loved one or as a pre-need memorial for the future, we'll often suggest they come back in July and ask for a cutting, so they can grow that same rose in their own gardens as a living tribute to their loved one," she said.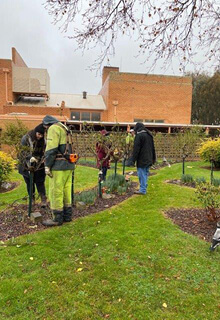 Jenny said the conversations are many and varied.
"Given the relaxed environment they find themselves in at our pruning sessions, many people take the chance to ask about burials and cremations and our other services.
"It's a good chance to ask questions that they might not have reached out and asked otherwise," she said.
The Ballarat New Cemetery lets people know about the workshops via Facebook and in the local newspaper, by producing brochures and leaflets and by talking about them as they move through the local community.
People can also get information on the sessions and the cemetery's myriad of cremation and burial services by visiting the Ballarat Cemeteries website.
OpusXenta supports the cemetery's efforts to engage the local Ballarat community in such a beautiful way and to memorialise the people who made the vibrant regional city what it is today.
We also recognise the efforts the cemetery has made to become the true community space that it is by letting people walk themselves and their dogs and ride their bicycles on the accessible-to-all pathways year round.
It really is a 'blooming' special place.