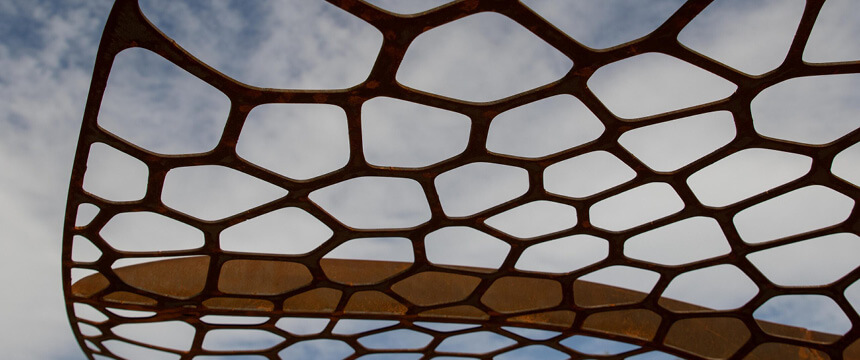 Geelong's first Pregnancy and Infant Loss Memorial Garden was opened by Geelong Cemeteries Trust on Pregnancy and Infant Loss Remembrance Day on Friday, 15th October 2021.
The garden, located at Geelong Memorial Park, is dedicated to local families who have suffered pregnancy loss in the hope that it will assist their grieving process.
The garden is the final milestone in establishing the Pregnancy Loss Program, which has been developed over the last five years and provides a free service to families unable to make formal funeral arrangements.
In 2016 the Geelong Cemeteries Trust was approached by St John of God Hospital, Barwon Health Maternity Unit and Hope Bereavement to assist families who had suffered the loss of a baby under 20 weeks gestation.
The current practice at the time, where the family was not in a position to make funeral arrangements, meant that families who had suffered this loss had no option of retrieving or memorialising their baby's remains in the future if they wished to do so.
Any family within the Geelong Cemeteries Trust catchment that has suffered pregnancy loss, regardless of when the loss was suffered, is entitled to a leaf inscribed with their baby's name, or just a simple message, that will be attached to one of the sculptured trees. These leaves are at no cost to the family.
The gardens surrounding the reflection pond are available for purchase by any family wanting to establish a memorial, with or without cremated remains. These gardens will accommodate a memorial plaque and are available for any child under 11 years of age.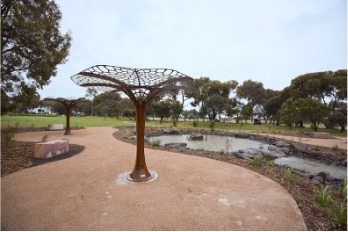 Darryl Thomas OAM, Geelong Cemeteries Trust CEO, says, "The development of this program was due to extensive efforts from all involved parties to make a change to current practices regarding the disposal of an unregistered birth. In our experience, many families contact the Trust, sometimes years after, asking if we know what happened to their baby's remains. Being able to inform them that their ashes have been placed in this garden means they have a place to visit and reflect. We know that a memorial such as this greatly assists these families with their grieving."
Kate Cohen, Clinical Midwife Specialist of Barwon Health, says, "The relationship that we have developed with Geelong Cemeteries Trust for babies under 20 weeks gestation has meant a great deal to the families that we care for as well as the nurses/midwives caring for them. Families have expressed their relief and appreciation, knowing that their baby has been cared for in a respectful and dignified way. The designated garden will be a beautiful place for women and their families to remember and acknowledge their baby, no matter their gestation."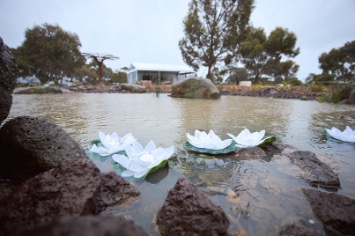 The construction of the Pregnancy and Infant Loss Garden is now complete, featuring sculptured trees and landscaped gardens surrounding a reflection pond of moving water.
This article and all images were provided courtesy of Geelong Cemeteries Trust. You can learn more about GCT and the Pregnancy and Infant Loss Garden at gct.net.au