Anzac Day is a time to honour and remember those who have served and sacrificed for their country. It's also an opportunity to recognise the tireless efforts of those who work behind the scenes to preserve the memory of our fallen soldiers.
One group actively working to locate, preserve, re-letter, and care for headstones not covered by the Office of Australian War Graves is the Australian Remembrance Army, headed by Brisbane cemetery and headstone conservators Cate Walker and Katrina Trevethan. In this blog post, we'll take a closer look at the wonderful work that Cate, Katrina, and their team of volunteers are doing and the upcoming unveiling ceremony they have planned.
Cate always had an interest in cemeteries and their historical values, becoming an accidental cemetery conservator when she learned in the late 1990s that the cemetery on Rarotonga Cook Islands where her mother is buried was washing out to sea. Diving deeper, she discovered many Cook Islands NZEF WWI veterans were buried in the jungle near the location of her mother's grave. This experience kickstarted her research, becoming the beginning of the Cook Islands WWI Research Project.
In 2019, the New Zealand Remembrance Army (NZRA) contacted Cate regarding her Cook Islands WWI Research Project, encouraging her to start a Cook Islands Remembrance Army. Despite this additional responsibility, Cate and her husband Paul remained dedicated to their work, travelling regularly from Australia since 2015 to search for and document the graves of Cook Islands WWI veterans, and re-letter their grey granite headstones following the techniques used by headstone conservator contractors employed by the New Zealand Ministry for Culture and Heritage. During the covid pandemic, the NZRA contacted them again, proposing the establishment of the Australian Remembrance Army.
The process of acquiring and maintaining headstones for war veterans differs a little between New Zealand and Australia. In New Zealand, all WWI veterans were entitled to free government-issued grey granite headstone memorials. After the headstones are erected, however, it becomes the families' and descendants' responsibility to maintain them. Unfortunately, this results in the deterioration of many monuments, with the lettering, in particular, fading away with time. This is when the NZRA step in to help care for these deteriorating headstones.
In Australia, not all veterans qualify for official government-issued memorials, with criteria set by the Commonwealth War Graves Commission or Office of Australian War Graves excluding many. As a result, many Australian war veterans have civilian headstone memorials or are in unmarked graves. However, in contrast to New Zealand, all government-issued headstones and plaques are cared for by the Office of Australian War Graves in Australia.
Due to the differing government qualifiers between New Zealand and Australia, the work of the New Zealand Remembrance Army and the Australian Remembrance Army vary slightly. The Australian Remembrance Army's work focuses on locating, preserving, restoring, and caring for the civilian headstones of returned servicemen and women not under the official care of the Office of Australian War Graves or Commonwealth War Graves Commission. In addition to this, they also locate veterans in unmarked graves, researching and applying for grant funding to properly inter them.
In May 2020, the Friends of Toowong Cemetery asked Cate and her husband, Paul, to volunteer to re-letter several granite headstones and assist in cleaning marble ones. Cate shared the results of their efforts on cemetery-specific Facebook pages, catching the attention of Katrina Trevethan, who expressed her interest in joining them and learning the techniques involved. Like Cate, Katrina has always been fascinated with cemeteries, their histories, and stories. She started with her family history, and her interest grew as she documented interesting graves she encountered during her travels, later researching them.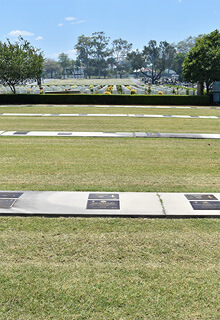 In late 2020, Cate and Katrina's Australian Remembrance Army discovered over 1000 Australian returned service personnel from all theatres of war in unmarked graves in Lutwyche Cemetery Brisbane. The Federal Government's 'Unmarked WWI Graves Program was due to end on June 30, 2021, so Cate and Katrina spent the following seven months researching and applying for funding to contribute toward the cost of 710 veteran graves. In November of that year, they received advice from the Department of Veterans Affairs in Canberra that their application for 709 of the 710 graves was successful, with only one application still pending. Granted funding of $450 for each plaque, they have now succeeded in manufacturing and installing approximately 250 plaques to date for Australian WWI veterans who, until now, had been lying in unmarked graves.
Despite the success of their efforts, the $450 awarded per plaque is too low to cover the cost of installing and manufacturing 709 plaques. In contrast, Veterans Affairs New Zealand contributes up to NZD$1000 per memorial plaque or headstone. While Cate and Katrina have received $319,050 in government funding, the project's total cost will be around $369,000, leaving them with approximately $50,000 needed to complete the project. Though this shortfall in funding can be difficult, the Australian Remembrance Army continue their efforts, doing what they can to support every serviceman and woman.
The Australian Remembrance Army plan to continue their cemetery research in Brisbane and promote their granite headstone re-lettering techniques throughout Australia. Since completing their successful applications to the 'Unmarked WWI Graves Program', they have found many more WWI veterans in unmarked graves. They believe this program will be restarted in the near future; however, the funding allocated per person is far from adequate, and they continue to push for greater resources.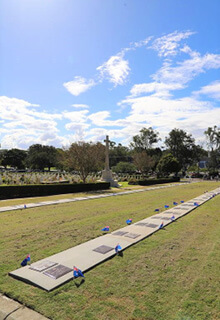 Katrina and Cate recently unveiled 247 plaques in honour of Australian WWI veterans at Lutwyche Cemetery in Brisbane, with 462 more plaques still to be manufactured and installed, and further unveiling services will be held in Lutwyche Cemetery at later dates. They also discovered ten unmarked New Zealand war veterans' graves during their efforts on these projects. The New Zealand Remembrance Army is planning an unveiling ceremony at Lutwyche Cemetery for these plaques on April 23rd.
The effort of volunteers such as Cate, Katrina, and others of the Australian Remembrance Army and its counterparts are significant in their impact. The location, preservation, restoration, and care for the headstones of unidentified soldiers allow their stories to live on and their connections to their community to reignite. The unveiling ceremonies held recently at Lutwyche Cemetery are a wonderful example of their efforts coming to light. We can only hope that the government reinstates this program with higher funding. The Australian Remembrance Army has done a commendable job of preserving memories and ensuring the legacies of those lost live on.
Lest we forget.