When we think of tourism, we think of crowded beaches, bustling cities, and stunning vistas; we do not always think of cemeteries. The concept of tourism centers on the element of fun. Cemeteries hold the complete opposite sentiment, and yet, cemetery tourism is on the rise. Because of this fact, cemeteries are seeking new ways to support their operations and create awareness of services and offerings. Digital cemetery mapping can literally put your cemetery on the map for tourism.
Cemetery Tourism
While cemeteries certainly are solemn places where grief and mourning meet, they are more than that. They are art and history. They are beauty and memories. Walking tours through a cemetery bring the public close to their most loved celebrity or to the final resting place of a relative they never had the chance to meet. Tours allow people to explore the tombs of war heroes and presidents. They can pass under giant willows, walk by flowering bushes, or see dozens of Yucca Plants, which mark buried headstones in overgrown sections of older cemeteries and symbolize eternity and mourning.
Cemetery tourism isn't about morbid interests and late-night stalking past stone markers. It's not about seances and ghost hunting. It's about individuals with a genuine interest in the past who are seeking the facts of history in the semblance of today.
Cemetery tourism is a growing activity with individuals traveling throughout their state and around the world to seek out specific graves – graves of famous people or loved ones – or understand and reflect on their own lives.
Cemeteries have the opportunity to show off what makes them special. Are celebrities, historical figures, or important individuals buried in your cemetery? Do you offer unique architecture, scenic landscapes, or unusual engravings? These are the kinds of details that attract tourists, and with digital cemetery mapping, you can draw in the public to your cemetery.
Cemetery Mapping
In the past, cemetery tourists had to conduct research before heading to the gravesite. They had to be investigators and sleuths. Some cemeteries had paper maps, but they were often outdated or even incorrect. They may have had handwritten and indecipherable entries. Tourists may have resorted to online options, such as crowd-sourced cemetery mapping, which often lacked information. Or they could have sorted through library and newspaper records for the mention of a specific death in the hopes of finding a burial site listed as well. Regardless of the method, researching burial locations tended to be tedious and unreliable.
Today, many cemeteries use cemetery mapping software for accurate, up-to-date, and crystal clear records of each grave. Through cemetery management software, digital mapping can support and even encourage walking tours and cemetery tourism by taking away the difficult process of locating graves, both before arriving on-site as well as once a tourist has entered the cemetery. Cemetery mapping software makes touring a cemetery more enjoyable by taking away the guesswork. Information is easily accessible to tourists, and funeral directors are capable of making the public aware of services and activities in the cemetery for that day and in the future.
Much of the cemetery business focuses on record keeping. Digital cemetery mapping has pulled the industry into modern times with technology that is unrivalled. It offers the ability to take all those paper records and transform them into digital content that can be accessed and used quickly and effectively.
Cemetery Events
Imagine when tourists arrive at your cemetery, instead of handing them a xeroxed paper map, you provide access to an online database that lists each grave, every empty plot, each memorial building, and even points of interest, such as a 100-year-old giant oak. Imagine having guests sign up for Remembrance Events through cemetery management software that reminds them to attend each year.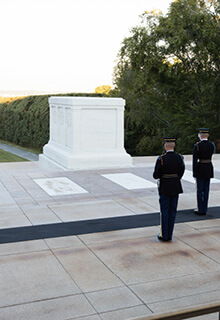 Arlington National Cemetery, for instance, holds an annual Renewal & Remembrance event that is typically open to the public. Unfortunately, in 2020, it was canceled due to COVID-19. However, the cemetery still offered the local community and the world the opportunity to come together in spirit to honor those buried at the cemetery. Instead of the usual public remembrance event, Arlington held a small closed ceremony with video access for the public. Next year's event, scheduled for July 19, 2021, will be the 25th Anniversary of Renewal & Remembrance.
The city of Hamilton, Ontario, offers "Stories in the Stones" tours, reminding visitors that cemeteries "are like museums, with their headstones serving as a record of our culture and social history." The free, guided walking tour takes place at Hamilton Cemetery, Canada's first and oldest municipally owned and operated cemetery. Noted burials include early settlers Robert Land and George Hamilton, victims of the Desjardins Railway Disaster, American Civil War Veterans, as well as local political figures. The tours offer visitors interesting tales about the individuals buried there – about their lives, about their deaths, and about the history, they left behind.
Other cemeteries worth touring include: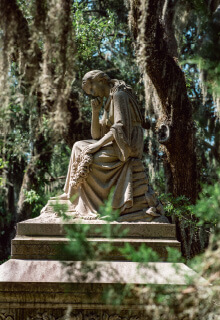 Bonaventure Cemetery in Savannah, Georgia: Home of hauntingly beautiful grounds, classic sculptures, and historical relevance. Burial site of Johnny Mercer, American songwriter and founder of Capitol Records; Conrad Aiken, poet and writer; and Gracie Watson, who died of pneumonia at age 6 in 1889 and is remembered with a stunningly accurate statue.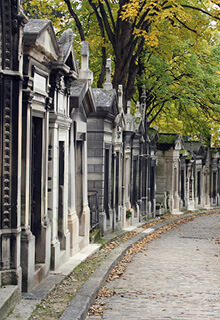 Père Lachaise in Paris, France: The world's most visited cemetery, which receives over 3.5 million visitors annually, nearly the same number of visitors as the Empire State Building. Among the many notable individuals buried here are Oscar Wilde, author; Jim Morrison, musician; and Frédéric Chopin, composer.
Myles Standish Burying Grounds in Duxbury, Massachusetts: Named after the military leader of Plymouth, this is the oldest established cemetery in the United States. Captain Myles Standish is buried here alongside several passengers of the Mayflower.
While you may not have Mayflower passengers or hauntingly beautiful statues in your cemetery, you certainly have something worth visiting. Whether you offer regular guided tours or allow daily self-guided tours to the public, you have an opportunity through digital mapping to bring tourists to your cemetery.
Benefits of Cemetery Mapping Software
Properties that take advantage of cemetery management software and choose to have their grounds digitally mapped using drones and high-end imaging will have a distinct advantage over other cemeteries. With graveyard tourism on the rise, individuals are seeking out sites that can provide modern methods of listing each headstone as well as interesting aspects of each location. Cemeteries using digital cemetery mapping will support the growth and profitability of their property.
Cemetery mapping software, like Mapmakr,  enables cemeteries to keep in touch with the growing industry of tourism within their realm. Cemeteries can host events and provide opportunities for tourists to enjoy their grounds. They can offer remembrance events, structured walking tours, or individual and private tours of a well-mapped cemetery without the concern and struggle of researching a grave's location. With access to accurate, up-to-date maps, cemetery tourists are able to visit permanent, lasting tributes of their loved ones as well as uncover the stories in the stones.