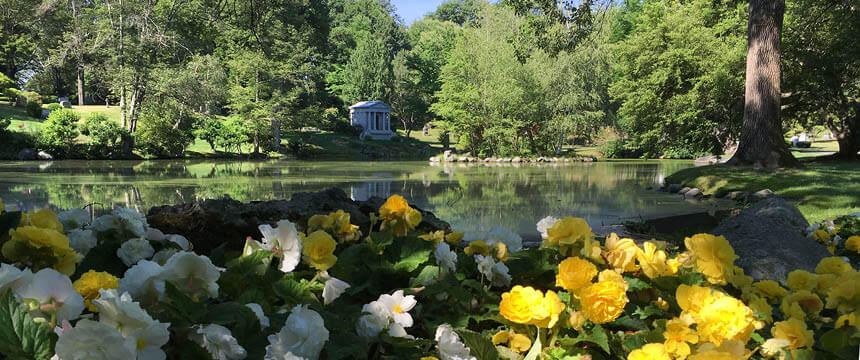 When faced with the impending retirement of their legacy software system, Newton Cemetery & Arboretum sourced a new solution that has enabled them to improve efficiency, minimize downtime, and explore new opportunities.
The 'Unique Beauty' of Newton Cemetery & Arboretum
Newton Cemetery & Arboretum is a private, non-profit organization serving the needs of all faiths in Newton and the Boston area. Founded in 1855 during the garden cemetery movement, the cemetery has always served as a destination for quiet recreation and reflection. Additionally, the cemetery is a space to appreciate art and architecture in the landscape. Recognizing the importance of the cemetery's vast array of trees, Newton is a proudly accredited level two arboretum, awarded by the ArbNET Accreditation Association.
"Newton has unique beauty; anyone is welcome to come in and quietly recreate on the grounds and learn more about the different aspects of history, culture, and nature," explains President of Newton, Mary Ann Buras. "We have a beautiful indoor and outdoor columbarium, community mausolea space and scattering grounds, the tree canopy, the pond system, the rolling topography, and the varied monuments. Not many cemeteries have these offerings."
With a range of services designed to meet the needs of each family, Newton provides a variety of burial and cremation services to families, as well as having a dedicated area for the scattering of ashes. Originally occupying 30 acres, the cemetery is now close to 100 acres in size.
Families who follow different faiths can often find the process of selecting a resting place for their loved ones challenging and stressful, as those of different faiths are not always allowed to be buried together. However, Newton Cemetery is a place where families can be laid to rest together, regardless of their beliefs. "We are non-denominational, so we serve mixed faiths as well as those with no faith at all. This enables families to all be buried or cremated here,"  says Mary Ann.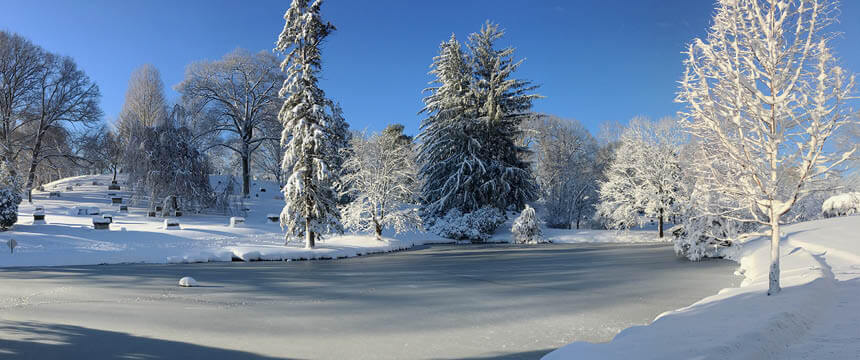 Tackling Challenging Market Forces
The death care sector as a whole has seen a notable rise in demand for cremations in recent years, with factors including COVID-19, declining religious beliefs, increasing environmental concerns, and rising funeral costs.  "At Newton Cemetery, demand for cremations has steadily increased, and around 45% of our interments are for cremated remains", explains Mary Ann.
Like many other providers, COVID-19 presented significant challenges for Newton, particularly when determining how to remain operational during this period. This included ensuring that they could continue to serve families safely and that all new procedures and policies were followed.
Post-COVID, Newton's operations continue to be influenced by local policies and regulations in Massachusetts, including the impending decision on legalizing aquamation in the State. Newton is also impacted more generally by an aging workforce, noting that there are significantly fewer young people choosing to enter the death care sector.
A Race Against Time
The cemetery managed all of its data and operations via a legacy software system. This system was due to be disbanded by the end of 2021, prompting Newton's management team to begin the search for an alternative provider.
Time was of the essence, and Newton was keen to find a system who would be able to offer an integration with Sage 300, something that their current system was not able to do. In addition, Newton had previously used several external databases for managing various forms, sales, deeds, and certificates, so finding a solution that integrated all of these into one would be a real game-changer. To ensure they found the best solution for their needs, Newton evaluated three different options, ultimately deciding on byondpro by OpusXenta.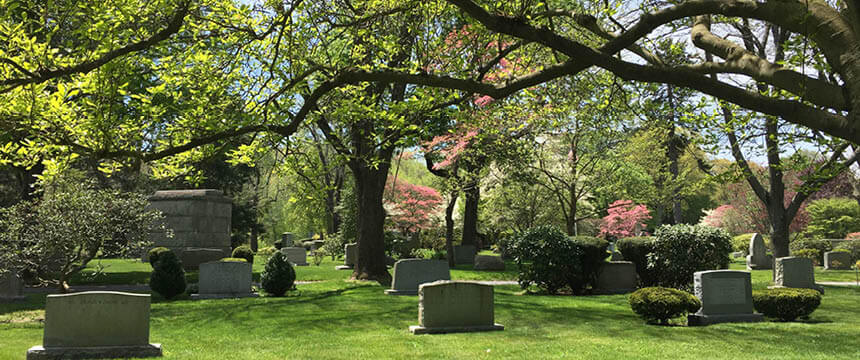 A Team Effort
The team at Newton got to work briefing the OpusXenta team on their requirements and working together through the migration. "Working with them has been great. We have a core team that is familiar with our processes, what we need and how we operate. They have all been wonderful to work with, are really responsive when we need them, and very willing to work with us to make sure that what we are doing is what works best for us," explains Mary Ann.
Naturally, there were some challenges to overcome. Specifically, the OpusXenta team were able to help create a workaround for the flowerbed and holiday tribute mailings to go live before the florals module was ready. "It was so helpful and really saved those seasons for us. It was a great fix and was rolled out pretty quickly", explains Mary Ann.
Overall, the migration went really smoothly with credit due to both teams, who worked together tirelessly to ensure the project was a success.. "A testament to this is that a funeral director commented that they did not even know we had gone through such a major IT transition as there was no interruption to the service," adds Mary Ann.
Efficiency Gains
One of the biggest gains for Newton through migrating to a new system has been the ability to combine everything into one place, rather than having to refer to multiple databases. The team now works more efficiently and swiftly to achieve their goals.
"We can go into a property or a person's records and see the cycle of what has happened so far. It's generally a lot easier to use and answer queries, especially memorials, deeds, certificates, and cash receipts. It is giving us time to focus on things we can do to make ourselves even more streamlined," explains Ronnie Dooley, Office Manager at Newton.
The improvements have been so significant that Newton is actively exploring other capabilities, including a funeral director portal, using cases for customer complaints, moving paper sales maps to a digital process, and facilitating payments. "Having our credit card transactions coming from the same place and having a team on hand to troubleshoot any issues would certainly make our payment processing a lot easier," says Mary Ann. The team's focus remains on the families they serve, aiming to achieve more efficiency and productivity in order to better serve their needs.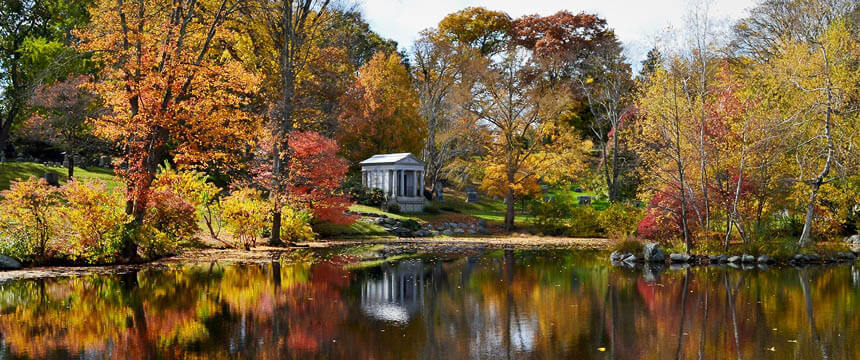 Building a Legacy for the Future
Having devoted the last couple of years to projects and renovations, alongside the challenge of the pandemic, the updating of the website, and a major software migration, The Knoll is the next exciting initiative currently in the works.
The cemetery has put their heart and soul into expanding in Spring 2024 to introduce The Knoll. The Knoll is a new area, adding 2,000 varying lots, including; family lots and large mausoleum lots, representing over 6,000 burial and interment rights. The urn garden plots on The Knoll alone will add 50 years of space based on current projections, with other lots adding 12 to 15 years of space. There are three to four acres of space open to still develop, which will enable Newton to continue to flourish and grow. Newton wants to continue to expand and create new areas in order to exceed customers' needs and provide the best service possible to families.
Once The Knoll is open to the public, the team is looking forward to a quieter period of time, and with it the opportunity to invest more time into their partner organization, The Friends of Newton Cemetery. The team will also continue to focus its efforts on creating a secure and sustainable financial future for the cemetery. Half of every plot sale now goes towards an endowment to support the cemetery once all of the plots are sold. "The goal is to ensure that the endowment is funded to carry on operations and sustain the cemetery to the level that it is right now, including the grounds and their beauty, for many years to come," concludes Mary Ann.
Newton Cemetery's top priority remains to go above and beyond for families in order to meet their needs; this will always be their true mission.