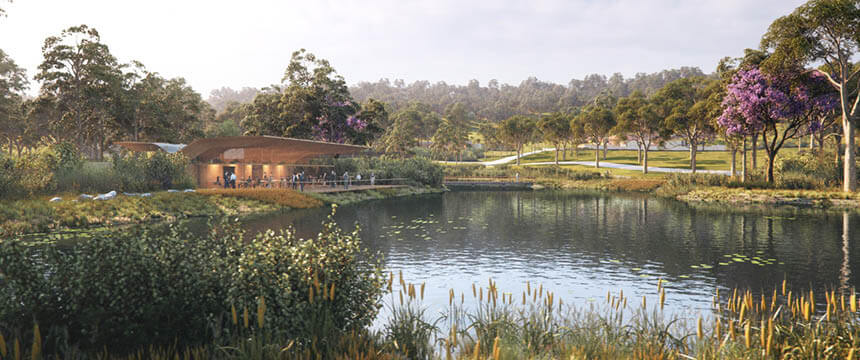 The first cemetery to be built in Sydney in over 80 years is a step closer, with the first sod turned at Macarthur Memorial Park on the 27th of February 2020. Over 80 people witnessed the momentous occasion with key stakeholders, government officials, industry colleagues and community leaders of all faiths in attendance.
Traditional Owners Honoured
The day was especially significant from a community engagement perspective, with local representatives from the indigenous community performing a traditional land dance to welcome everyone to the site. Stories were shared of the traditional cultural heritage. Local elder Uncle Ivan then led the dignitaries to the ground-breaking site and blessed it with smoke from the ceremonies gum leaves to bless the land for all current and future generations.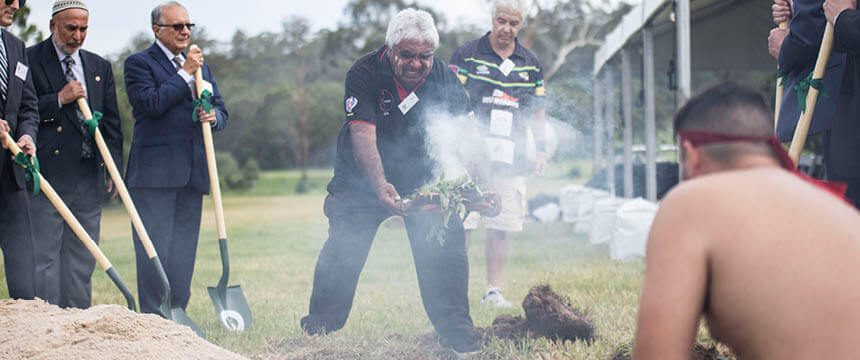 Educating Future Generations
Earlier in the year, a heritage information day was held at Campbelltown Catholic Club. This provided a deeper insight into the cultural significance of the site to its traditional owners. A specialised team arranged a subsequent site visit 'story day' with indigenous locals to gather more detailed information and specific places that are of significant cultural and historical value. Many of these stories, such as The Six Seasons, will become part of the storyboards and walks that will populate the memorial park once open.
Non-Denominal Significance
For many, including the NSW Government, the commencement of the memorial park will come just in time to avert a shortage of grave space across Sydney, with all Crown cemeteries to close to new burials within 10-12 years.
For Muslim, Orthodox and Jewish communities, who bury their dead, the need for additional burial space has become urgent. Community leaders have welcomed the new multi-faith cemetery at Macarthur to meet the needs of a rapidly growing and diverse multi-cultural population. The two local government areas of Campbelltown and Camden alone will have a combined population of over 500,000 people.
World Class Facilities
The memorial park will be distinctly landscaped over 113 hectares of green space. It will provide 136,000 burial plots, discreetly located in 'burial rooms' that are surrounded by hedges, slightly higher than the headstones.
The cemetery will include 36 hectares of open space with seven kilometres of walking tracks with picnic areas, a vineyard, a sculpture park, a cafe, and a playground. There will also be an architecturally designed chapel that can accommodate everything from intimate gatherings through to larger services.
Peter O'Meara, the CEO of Catholic Cemeteries + Crematoria, has said that Macarthur Memorial Park will "ensure the interment practices and beliefs of all religious and cultural groups are respected and provided for. We welcome everyone to these world-class facilities and public recreational spaces".
To find out more visit: mmpark.com.au